BEYOND SUSTAINING
Sustaining isn't enough - companies need to turn the tide. COAT is leading the charge with cleaner products, smarter solutions, and bigger thinking. COAT is B Corp Certified, too.

CLIMATE POSITIVE \ B CORP CERTIFIED
We're not chaining ourselves to trees at the weekend or anything, we're just very conscious about making the right decisions for a better future - even if they're the harder ones. People deserve to know who they're buying from, to make conscious choices.
Rob & Rob - founders
Smarter
Solutions
Anything that's made to be single-use like paint testers needs serious thought. Peel & Stick samples is the new, smart way to test colours:
- 95% Less waste than tester pots
- 100% Adhesive free (no glue)
- 100% Recyclable PET material
- 100% Colour Accurate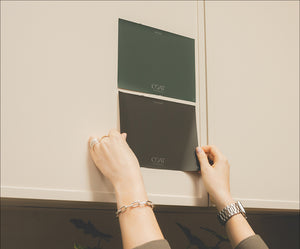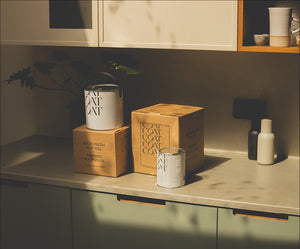 Cleaner
Products
Unlike most of the paint produced, the entire COAT range is entirely water-based and low toxin (VOC). Our supplies are sustainable bamboo, so no nasty plastics:
- 100% solvent-free paints
- Recyclable products & packaging
- Sustainable bamboo supplies
- Made to order, for zero waste
Bigger
Thinking
COAT goes beyond clean products, as a regenerative business that gives back more to the planet and broader society than we take:
- Certified Climate Positive
- Closed-loop tin and paint recycling
- Backing Crisis UK to end homelessness
- Local sourcing and production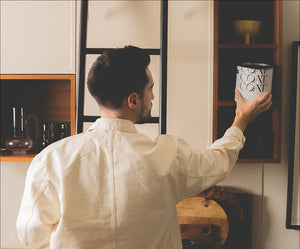 COMPARE US TO THE REST
We're proud of the deep environmental and social conscience that shape the COAT brand and products. Here's how COAT compares to some other well-known premium paint brands:
Price (2.5L)

Based on purchasing 2.5L of Durable Matt Emulsion paint.
Low VOC

This company offers paint classed as Low VOC, with <30g/l. Volatile Organic Compounds, or VOCs, are gasses emitted by paints that can be harmful.
Child Safe Certified

Paints from this company meet the testing standards of EN 71-3 in independent testing. Often called 'Toy' or 'Child' safe.
100% Animal-Free Ingredients

This company doesn't sell any products in it's range which contain ingredients derived from animals.
Some paints contain Caesin
100% Made To Order

This company doesn't operate any pre-coloured batch production - which in typical paint supply chains can create a wastage risk.
B Corp Certified

This company is independently certified by B Corp, acting responsibly to have a positive impact on people and the planet beyond profit.
Climate Positive Certified

This company is independently certified as Climate Positive, having measured, minimised, and double-offset (as a minimum) unavoidable Carbon emissions.
CONSCIOUSLY MADE
UK Made *
 Water-based Paint *
 Eco-Accessories *
 Recyclable *
 Carbon Offset *
 Sustainably Sourced *
 B Corp Certified