Paint, just better
When did paint get so complicated? Endless trips to DIY stores, complex choices and environmentally damaging products left us frustrated. So we changed the game.

House-proud, no struggle / House-proud, no struggle
We're about simplicity, and making it easy to create a stylish home in a conscious way. We've done the leg work to bring you tasteful muted colours and the highest-quality paint - hand-finished to your order, and delivered the very next day.
Luxury Paint, Consciously Made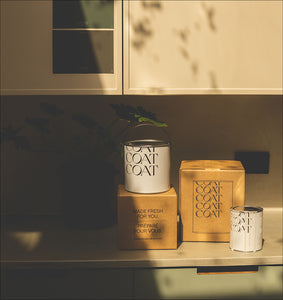 Paint principles
Paint is really just a recipe, but not all paint is created equal. High quality paint means depth, coverage and a smooth finish that makes life easier.
So we formulated the only 3 products you'll ever need for inside your home, using all the right ingredients. It's not that complex, it's just great paint. And, all our paint is finished fresh to order, by hand, the same day.
Oh, and forget messy tester pots. Our hand-painted peel-and-stick samples are 100% accurate, and go straight on the wall. No fuss. No mess. Move them about and see your colour in different lights. Thank us later.
We started COAT for anyone who wants to transform their home, without the struggle.
THE COLOURS
You know those endless aisles of 1-inch colour cards in DIY stores? The ones you spend hours in, agonising over colour. Well good news - you never need to go back...
COAT curates only the best colours and inspo, so you can confidently find your style. Be part of a community that's always on trend.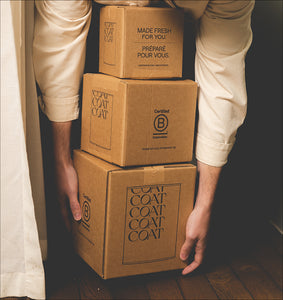 Our conscience
From day one we built COAT with a conscience, and made honest decisions we can stand by.
From our eco-formulations and recycled packaging, to sustainable logistics, operations and eco-accessories. We're proud to say we're carbon offset too, supporting UN Gold projects, and B Corp certified.
We're taking control, wherever we can, to make paint better.
There's always more to do, and we'd love to hear your ideas. By joining COAT you're choosing to take vehicles off the road, reduce waste, and prioritising sustainable materials. You're helping to make things better for all of us.
we're rob & rob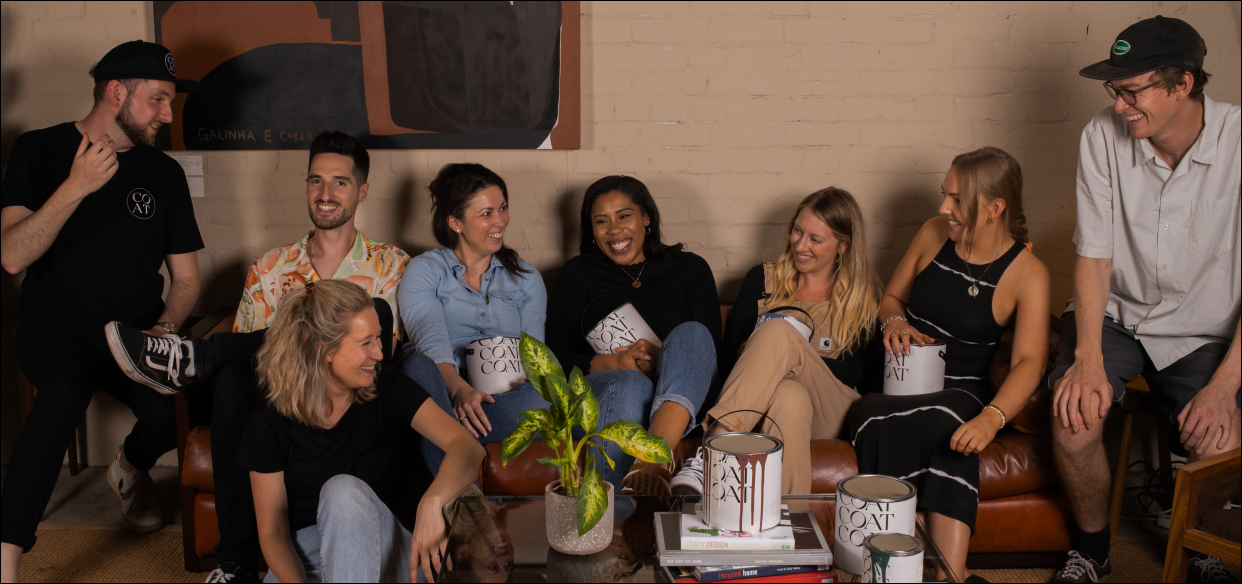 Rob, Rob & The TEAM
One of us likes 😸 cats. The other one likes 🐶 dogs.A few years ago you'd have found us in a dive bar with overpriced cocktails.
Now we're all about buying quality furniture, drinking decent coffee, and planting things.Anyway, our shared career experience in paint and tech was the perfect platform to bring COAT to life. We left the big guys to bring together like-minded people who want an awesome looking home, but have zero-tolerance for the bullshit.
From our base in Surrey (the little-known centre of the coatings universe), we now spend our time pinning colours, mixing the best paint, and sparking ideas for the next paint innovation.We're always here, so drop us a line anytime.